Ebeco Clear Mirror Demister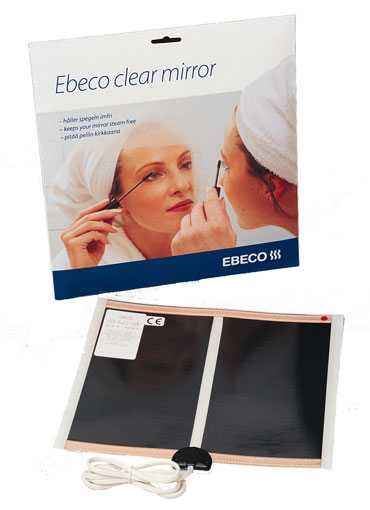 Clear Mirror lets you look in the mirror immediately after showering.
A self-adhesive foil is mounted on the back of the mirror and connected to the existing bathroom lighting. The mirror heater is activated when the light is turned on.
The easiest way of connecting Clear Mirror is to the existing lighting system. The system must be fitted with an earth fault relay of 30 mA. The installation should be carried out by a qualified electrician.
Fits most types of mirror. On larger mirrors several mirror heaters can be used in combination.
| | | | | |
| --- | --- | --- | --- | --- |
| Code | Description | Dimensions | Price | Buy |
| E8960630 | Mirror Demister 15W | 274 x 274 mm | Price: £ (inc. VAT) | |
| E8960632 | Mirror Demister 25W | 274 x 574 mm | Price: £ (inc. VAT) | |
| E8960634 | Mirror Demister 50W | 524 x 524 mm | Price: £ (ex VAT) | |
| E8960636 | Mirror Demister 100W | 524 x 1024 mm | Price: £ (inc. VAT) | |