3093Y Heat Resistant Flex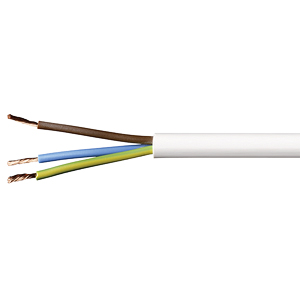 General purpose PVC flexible cable suitable for hot environments where temperatures do not exceed 85°C. Applications include night storage heaters and immersion heaters etc. Generally unsuitable for outdoor use or industrial applications.
Construction: Plain annealed copper conductor, HRPVC insulated three, four and five core twisted together and PVC sheathed.


| | | | |
| --- | --- | --- | --- |
| IMAGE | DESCRIPTION | PRICE | BUY |
| | 3093Y Heat Resistant Flex 0.75mm x 100m | Price: £ (inc. VAT) | |
| | 3093Y Heat Resistant Flex 0.75mm x 50m | Price: £ (inc. VAT) | |
| | 3093Y Heat Resistant Flex 0.75mm x per metre | Price: £ (inc. VAT) | |
| | 3093Y Heat Resistant Flex 1.0mm x 100m | Price: £ (inc. VAT) | |
| | 3093Y Heat Resistant Flex 1.0mm x 50m | Price: £ (inc. VAT) | |
| | 3093Y Heat Resistant Flex 1.0mm x per metre | Price: £ (inc. VAT) | |
| | 3093Y Heat Resistant Flex 1.5mm x 100m | Price: £ (inc. VAT) | |
| | 3093Y Heat Resistant Flex 1.5mm x 50m | Price: £ (inc. VAT) | |
| | 3093Y Heat Resistant Flex 1.5mm x per metre | Price: £ (inc. VAT) | |
| | 3093Y Heat Resistant Flex 2.5mm x 100m | Price: £ (inc. VAT) | |
| | 3093Y Heat Resistant Flex 2.5mm x 50m | Price: £ (inc. VAT) | |
| | 3093Y Heat Resistant Flex 2.5mm x per metre | Price: £ (inc. VAT) | |