Ebeco Cable Boards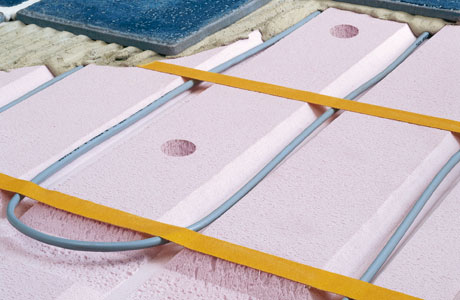 Cable Board is specifically designed for use on concrete with Ebeco Cable Kit. It is 20 mm thick with channels at 100 mm spacing for the Cable Kit to sit in, providing around 100 W/m2 of heat if all the channels are filled.
Cable Board is fixed to the concrete floor with tile adhesive. The cable is placed in the grooves, held in place with tape, and the grooves filled with tile adhesive to give a level surface for the tiles to be laid over. However, for smaller tiles, less than 20 cm square, we recommend filling the grooves with self-levelling screed with an additional couple of mm above the board level to ensure stability. Small, thin tiles such as mosaic may need up to 10 mm of self levelling screed.

A pack of Cable Board (E8960180) covers 3.6 m2 (5 sheets at 0.6 m x 1.2 m).
Depron Insulation Sheet
Depron is a 6 mm insulation sheet that is used under all Ebeco Foil heating systems. It is very easy to cut and lay, and it does not need to be fixed to the floor for this application.
| Code | Description | Price | Buy |
| --- | --- | --- | --- |
| ebcableboard | 3.6 sq m pack (5 sheets) | Price: £ (inc. VAT) | |
| ebdepron | 6 x 800 x 1250 (for foil) | Price: £ (inc. VAT) | |